The moment has arrived. You have decided it is high time to take the plunge and buy yourself your first 'gasm gadget. You start looking online. Oh mon Dieu! So many products.
So many different devices. So many colours, shapes and sizes. What do they all do? What will be best for me? Where do I even start? Take a deep breath and relax. This is going to be fun and exciting.
This is my guide on how to pick your perfect pleasure toy!
ME TIME: LEARN TO LOVE YOURSELF
Masturbation time! What could possibly be the benefits of taking the time to Love Yourself? Well, other than allowing yourself to get to know your body – what you like, what you don't like – it reduces stress, releases a lot of tension, gives you a better night's sleep, boosts concentration, alleviates pain and generally just makes you happier and makes you feel downright fabulous.
Exploring your own body with your hands and fingers is extremely sensual in itself. You learn how you liked to be touched, and in particular, you get to know where your erogenous zones are. These zones are, of course, different for everyone.
According to studies, 75% of women who have orgasms need to have their clitoris stimulated. Brace yourselves, because the orgasm button has 8000 wonderful nerve endings – double the amount in the penis – Lucky ladies! The sole purpose of the clitoris is for pleasure!
Explore this, see what makes your toes curl with absolute delight. Do you like direct contact, or stimulation around your clitoris? Once you have discovered this, not only will you experience the most incredibly orgasms, but you will be able to guide your partner on the wheres and hows!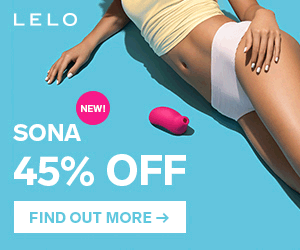 The perfect "For HER starter pack"I would highly recommend the LELO SONA Cruise.    absolutely stunning sex gadget is perfect for clitoral stimulation.  It will have you climbing the walls with pleasure. It is easy to use, it has various vibration settings and is very easy to keep clean.
My recommended "for HIM starter pack" is the PicoBong BLOWHOLE M-Cup. This masturbation has 6 intense settings, which you can control via your mobile phone. Gentlemen, brace yourselves. You are in for the time of your lives! This great device is waterproof, so perfect for when taking showers.
There is no argument about it. Masturbation is great for the body and mind! Whether you decide to "handle" yourself, or if you decide to try out one of the latest sex toy devices, I am sure your "me time" will be orgasmically fun, incredibly sexy and of course you will feel absolutely great afterwards.
PLEASURE WITH YOUR PARTNER
Perhaps you have been with your partner for some time, and your love life has taken a bit of a nose dive. Please do not panic, as this is perfectly natural in any relationship. There are so many contributing factors as to why this happens. But, you will be relieved to know it does not have to stay that way.
The first thing is to speak to you partner. Communication is always the key (and it can be downright sexy having this discussion). Approach your partner and try to come up with some ideas to spice up your sex life – how to get your "zing" back!
COCK RING
How about a vibrating cock ring? A what, did I hear you say? A cock ring? There is no way that I am piercing my cock! Not necessary, you would have to be asking for a "Prince Albert" then. We will speak about that another time. Back to the cock ring and how does it work?
Gently take your one-eyed snake and put it through the hoop. Move the hoop down the shaft and around the scrotum. Ok, you may still feel rather apprehensive and quite frankly terrified by the sounds of all of this, but believe me, I am going to give you the benefits of why using a cock ring is so great.
They help you maintain an erection, even if you have problems getting one. This, in turn, can be a confidence builder! And a confident lover is a better lover! They can also help delay and or intensify your orgasm.
Using a cock ring is also incredibly pleasurable for your partner (if she happens to be female). A minority of women are able to reach orgasm from penetrative sex, so the vibrating cock ring stimulates her clitoris at the time of intercourse. A win win for both!
For novices, when choosing this little 'gasm gadget, make sure that you choose the right size. You should choose one with a snug, tight fit, but not so tight that you go numb! At first, I would suggest that you go for adjustable or stretchy silicone, because it is easier to 'tailor and adjust' around your size.
TOR 2 is an exquisitely crafted device that has been designed especially with the intention to bring immeasurable pleasure to both of you when using it during intercourse. The TOR 2 is waterproof, so whether you want to heat things up in a shower, bath or hot-tub, the possibility is there.
[maxbutton id="6″ url="http://lip.go2cloud.org/aff_c?offer_id=2&aff_id=3580&url_id=113″ ]
These gadgets will certainly spice up your sex life. They will get you and your partner talking, exploring, discovering and hopefully bring you not only closer together, but will give you mind-blowing orgasms.
ENDING ON A HIGH
You have an array of choice when it comes to shopping for sex toys devices. But it can be rather daunting if you are exploring this avenue for the very first time. I hope the hints that I have given you, will help you in making your first choice.
Please make sure that when you purchase your new 'gasm gadget, that it is made out of high quality materials. You will find that sex toys made out of silicone are quintessentially top of the range and safe to use. It is soft to touch (but not porous which is great because it keeps out bacteria), it is tasteless and odorless. Above all, they can last a long time – but remember to maintain them well. Handy hint: Only use water-based lubricant with silicone sex-toys.
Avoid any toys which are made from phthalates. They are soft, porous, jelly-like and are a haven for bacteria. A big no no!
Enjoy picking out your new pleasure toy! Have fun exploring and discovering.
See you soon again
RENÉE